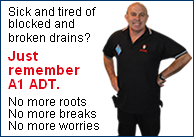 Drain Cleaning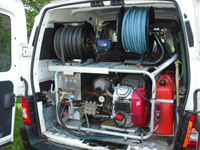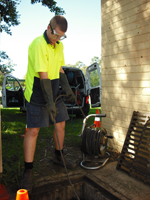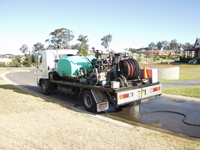 High Pressure Water Jet: This is the use of high-pressure water and specially designed attachments to clear a drainage system. This type of technology has advanced in such a way that we believe it to be the most effective way of cleaning drainage systems. There are two forms of HPWJ systems used today. The first, high-volume water at low pressures is truck mounted which needs a large area to work in and is mainly used on larger diameter pipes and for very difficult blockages. The other form is low-volume water at very high pressures, where these units are much smaller in size and can be mounted in a small vehicle or trolley and are very effective in cleaning pipe diameters ranging from 40mm to 225mm. Both forms of HPWJ are very effective in cleaning storm water lines as it cleans and flushes away all debris in the pipeline.

Click this link to keep up to date on all our events and videos.
We are proud to annouce that during our visit to Hamilton Island AUS & NZ Conference we were, once again, given the honour of receiving 'Job of the Year' 2011. The William Bland Building, located in Macquarie St Sydney, was experiencing ongoing issues with flooding in their offices due to the corrosion of the existing cast iron stormwater stacks.
A1ADT was able to successfully carry out over 250 metres of relining over a 3 week period with minimal access available, all while businesses continued to operate! This is one success story that highlights A1ADT's ability to efficiently plan and operate all while maintaining minimal customer disruptions.
Following our recent recognition as one of the largest drain and pipe relining providers in Australia and New Zealand as per materials installed, we have recently also been rewarded 'Job of the Year' for 2009 at our latest international conference.
The job was unique because this was the first 225mm boundary trap that had been installed and we were able to carry out this work while the 30 storey apartment block was still in use. We created a flow-through bladder that bypassed the work being carried out.