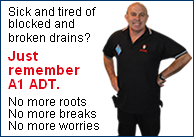 Blocked Toilet Sydney | Toilet Unblock
Blocked Toilet in Sydney

Your blocked toilet in Sydney can be very annoying especially if the toilets backup and overflow. Therefore, it is of utmost importance to identify, spot and repair the blocked toilet in Sydney on an immediate basis and this is where the services of A1 Advanced Drainage Technologies come in handy.
Is it possible to unblock your toilet yourself?
If you attempt to undertake the task of clearing your blocked toilet in Sydney yourself, we at A1 Advanced Drainage Technologies would strongly recommend you to wear protective gear and clothing to protect against any probable splashes or contaminations. If you are not able to clear your blocked toilet in Sydney yourself, do not worry, you can always contact and speak to our drainage experts and experienced plumbers. Call us anytime on 1800 001 760 we are just a call away!
How does A1 Advanced Drainage Technologies help clear your toilets?
A1 Advanced Drainage Technologies employs up-to-date drainage equipment and techniques for clearing your blocked toilet in Sydney. We use high-pressure water jetting and CCTV survey equipment. We utilise high-pressure water jetting as part of our routine maintenance work engaged in unclogging drains or toilets or for your emergency blocked toilet in Sydney.
Why should you engage A1 Advanced Drainage Technologies to clear your toilets?
Our experienced plumbers in Sydney are professionally trained and we use only the best equipment to ensure a no compromise work quality for our entire blocked toilet in Sydney services and related drain repair services. If your drains are cleaned and maintained regularly, you can easily prevent a blocked toilet in Sydney or also prevent a drain blockage build-up from ever taking place in your home or office. We offer a quality, affordable repair service for your blocked toilet in Sydney services.
We are aware how aggravating a blocked toilet in Sydney can be.  It can occur when we least expect it and it can be very inconvenient. But whenever the problem occurs, A1 Advanced Drainage Technologies will take care of your blocked toilet in Sydney immediately.

Click this link to keep up to date on all our events and videos.
We are proud to annouce that during our visit to Hamilton Island AUS & NZ Conference we were, once again, given the honour of receiving 'Job of the Year' 2011. The William Bland Building, located in Macquarie St Sydney, was experiencing ongoing issues with flooding in their offices due to the corrosion of the existing cast iron stormwater stacks.
A1ADT was able to successfully carry out over 250 metres of relining over a 3 week period with minimal access available, all while businesses continued to operate! This is one success story that highlights A1ADT's ability to efficiently plan and operate all while maintaining minimal customer disruptions.
Following our recent recognition as one of the largest drain and pipe relining providers in Australia and New Zealand as per materials installed, we have recently also been rewarded 'Job of the Year' for 2009 at our latest international conference.
The job was unique because this was the first 225mm boundary trap that had been installed and we were able to carry out this work while the 30 storey apartment block was still in use. We created a flow-through bladder that bypassed the work being carried out.